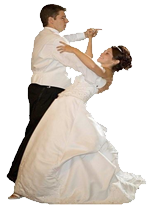 CONGRATULATIONS!
Weddings are the perfect reason to learn to dance!  Impress your friends and family with your First Dance on your special day.  All eyes are on you as you flow smoothly on the dance floor to a song of your choice. The crowd applauds as you end your dance with a finale dip! Past couples have chosen from a variety of dances such as Waltz and Foxtrot, to the more modern dances like Salsa or Tango.   At Elegance In Motion it is our pleasure to make your dance dreams a reality. We will be happy to help you select a song that suits you and your style. Please look below for list of dance packages that are available.
WHEN SHOULD I START DANCING?
The goals of the couple will really determine on the the length of dance instruction required. Some couples want to know a variety of dances for their reception and other couples only want to work only on their first dance as husband and wife. We have had couples come in as early as 1 year and as little as 4 weeks prior to their wedding. The earlier you come in, the more comfortable and relaxed you will feel about your dancing. We suggest that couples start 4 months prior to their wedding date. This will ensure that you have the chance to work on your steps and fluidity of your dance. No matter what your time frame, Elegance In Motion will work with you to build your confidence on the dance floor and give you a one of a kind dance experience.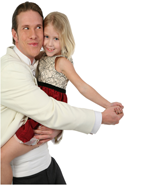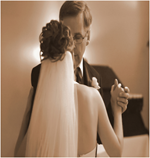 DADDY DAUGHTER DANCE
Make this dance the one she'll always remember. This is a great opportunity for fathers to spend some quality time with their daughters prepairing for the big day! Why not make it special by learning to dance?
Platinum Package
20 private lessons
Unlimited Group Lessons
Unlimited Practie Parties
$1395
Gold Package
15 private lessons
Unlimited Group Lessons
Unlimited Practie Parties
$1140
Silver Package
8 private lessons
Unlimited Practie Parties
$600
Bronze Package
4 private lessons
$320